Dark Knees & Elbows - How to Treat Them at Home
Posted by TEAM BARVA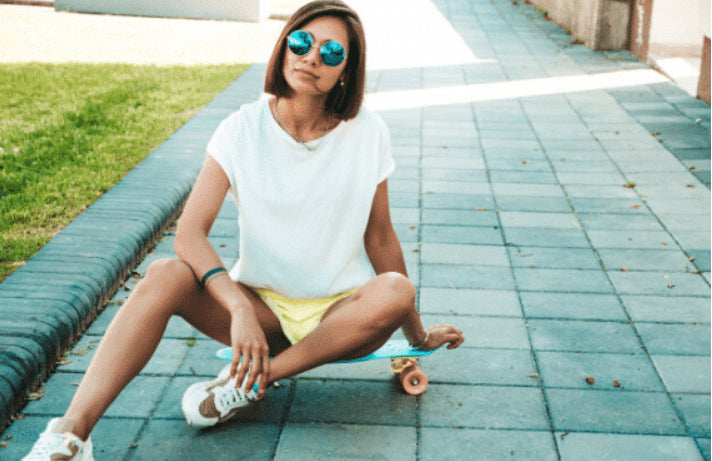 Are you embarrassed to wear short skirts, shorts, and all your favorite clothing that shows off your knees because they are dark? Don't worry, we you've come to the right place to search for home remedies for dark knees and elbows.
The occurrence of dark knees and elbows is very common. It is a form of hyperpigmentation wherein the skin on your knees and elbows produces excess melanin, which results in the skin around these areas to become darker as compared to the rest of the body. It affects people of all skin types. A larger number of people with darker skin tones are affected by it as dark skin tends to overproduce melanin.
In most cases, it has been found that dark knees and elbows are not harmful or an indication of any serious underlying health concern. They can be easily lightened with some of the home remedies described in this article.
1) Apple Cider Vinegar
Mix equal quantities of apple cider vinegar and water. Apply this mixture to your knees and elbows with a cotton ball and leave it on for 15 minutes. Wash off. Repeat this once daily.
The acetic acid content of apple cider vinegar works as a mild bleach that is very safe for the skin. It effectively lightens the skin.
2) Aloe Vera
Either use store-bought aloe vera gel or if you have the plant, extract the gel and use it. In case of store-bought gel, apply it on your knees and elbows and leave it on. Use it twice daily.
However, fresh aloe vera gel from the plant is sticky. If you are using it, apply it on the affected areas and wash it off after 20 minutes. Use it twice daily.
Aloe vera is a highly therapeutic ingredient. It has skin hydrating and lightening properties that work wonders. It also forms a protective layer on the skin that provides protection against sun damage & tanning.
3) Lemon
Mix together the juice of half a lemon with 1 tbsp. of baking soda. Rub this mixture on your knees and elbows for one minute. Leave it on for 15 minutes and rinse off. Repeat this every alternate day for the desired results.
Baking soda is a gentle yet effective skin cleanser. Lemon is rich in Vitamin C and it is very effective for skin lightening & brightening as it aids in the regeneration of the skin.
4) Almond Oil
Take a few drops of almond oil and gently massage them into you knees and elbows till it gets completely absorbed by your skin. Leave it on. Do this once a day every day.
Almond oil is rich in Vitamin E and has a mild bleaching effect on the skin. Also, it will moisturize and repair the skin around your elbows and knees thus doing away with skin darkness.
5) Yogurt
Mix together 1 tbsp. of yogurt with 1 tsp. of sugar. Rub it on the skin around your knees and elbows for 1 minute. Leave on for 20 minutes and rinse off with lukewarm water. Do this every alternate day for the desired results.
Yogurt is full of all the enzymes that are necessary to keep your cleanse & nourish your skin and remove dead cells. Sugar is an excellent exfoliating agent that gently exfoliates your skin and easily removes dark & dead skin cells.
6) Turmeric
Mix 1/2 tsp. of turmeric with 1 tsp of honey. Apply this mixture on your elbows and knees and rinse off after 20 minutes. Repeat thrice a week.
Turmeric contains curcumin, an ingredient known to limit the production of melanin, which is known to decrease hyperpigmentation.
Another important point to remember is to moisturize your knees and elbows daily after your bath with a body lotion. For this, we recommend the Barva Skin Therapie Antioxidant Pomegranate Body Lotion contains natural ingredients such as pomegranate seed oil, aloe vera juice, kokum butter, and orange essential oil. Aloe vera juice acts as a humectant, a substance that attracts moisture from the air around us, and kokum butter acts as an occlusive or a skin protector that ensures that there is no loss of moisture. These ingredients together keep the skin soft, smooth, and balanced in every way.
The Truth About OTC Treatments for Dark Knees & Elbows
Although the home remedies mentioned above might take time to lighten dark knees and elbows, they are definitely the safest as compared to OTC medications. This is because OTC medications contain ingredients such as mercury, steroids, hydrogen peroxide, and hydroquinone. These ingredients should be avoided as far as possible as very little research has been conducted on their effectiveness, and some of them are likely to be unsafe.
We hope you enjoy our articles and use some of these remedies. Do let us know which one you found most effective. Until next time, stay safe & stay beautiful :)
Collection 2019
Sale 70% Off
Third slide