Complete Face Makeup with Pink Lipstick
Posted by TEAM BARVA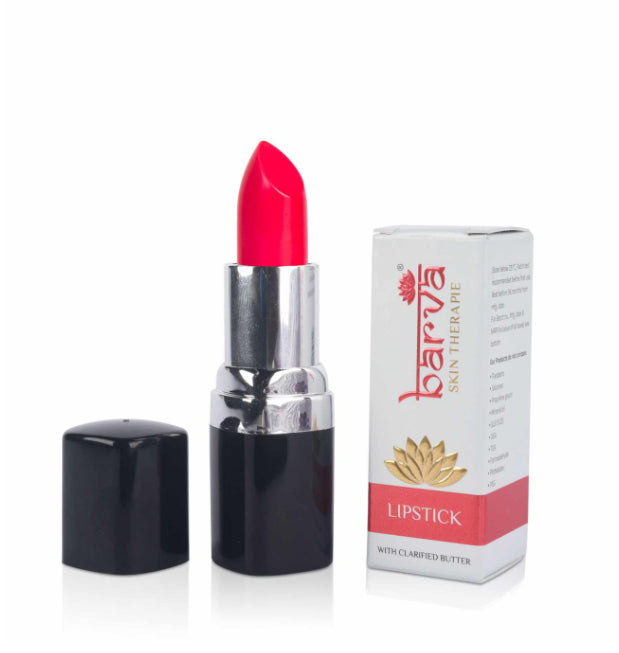 Pink lipstick on lips is among the most common makeup worn by a large number of Indian women. Pink and its various shades suit women of all ages and skin tones. Besides, pink is a color that suits all occasions, right from casual outings, office wear, to weddings and other festivities. It's all about finding the right pink.
In this article, we will explore the different shades of pink lipsticks that are suited to different skin tones. In addition, we will learn how to use our pink lipsticks as blush on the cheeks and as eyeshadows too.
How to use your pink lipstick for eye & face makeup?
As mentioned earlier, pink lipstick on lips looks fabulous on women of all types of skin tones. For this, you will need to find the undertone of your skin, the process of which as been elaborated in our previous blog "Which is the Correct Shade of Red Lipstick for Me?" The key is to choose the correct shades. Let us take a look at which shades of pink suit which skin tones:
Neutral Undertone:
As the name suggests, the undertone is neutral. Hence, women of this undertone need not worry much about choosing the correct shade. Most shades will suit them, the most common ones being pearl pink, hot pink, fuchsia, rose, and coral pink, among others.
Suggested Barva Skin Therapie Pink Lipstick Shades:
Cotton Candy (313)
Fuchsia (336)
Seduce (329)
Pink Pearl (702)
Rose Damask (225)
Uptown Pink (325)
Cool Undertone:
Lipsticks that are bluish, pinkish, or peach suit cool undertones as they make the skin look brighter.
Suggested Barva Skin Therapie Pink Lipstick Shades:
Seduce (329)
Pink Pearl (702)
Uptown Pink (325)
Fuchsia (336)
Warm Undertone:
Lipsticks with warm undertones, such as brown, yellow, and golden, complement the complexion and make the skin color as well as the face makeup stand out.
Suggested Barva Skin Therapie Pink Lipstick Shades:
Lilac (217)
Seduce (329)
Purple Patch (220)
Now that we know which pink lipsticks suit our skin tone, let us take a look at how we can achieve different pink lipstick looks and do face makeup with pink lipstick!
Blush for the Cheeks:
The most versatile function of any pink lipstick is that the same lipstick shade that you use on your lips can also be used on your cheeks! That's right!
All you have to do is smile. Take some lipstick on your index finger and make three dots on the raised portion of your cheeks when you smile towards the temples. Gently smudge them out with your fingers to create a crescent shape on your cheekbone. The best part about doing this with the Barva lipsticks is that they contain organic cow's ghee and kokum butter, which are ideal ingredients to fight skin dryness. They are a great natural alternative to your blush powder or other blush products that contain harmful ingredients. What's more, it doesn't need to be set with a setting powder or any other product! So one versatile product is all you need in your handbag!
Recommended lipsticks for using as blush:
Pink Pearl (702)
Uptown Pink (325)
Fuchsia (336)
Eyeshadow with Pink Lipstick:
Yes you read it correctly! It is possible to achieve a very professional eyeshadow look with two, or at the most three shades of pink lipstick. In case you are in a hurry, you can choose any one shade of lipstick and apply it on your entire eyelid with the help of a lipbrush and spread with your fingers. As the Barva Lipsticks are formulated with organic ghee and natural butters, they are a safer option as compared to conventional eyeshadows, and a very easy on-the-go option.
For a salon-style eyeshadow look with our lipsticks, follow the simple steps elaborated below. We have a video on our Instagram & Facebook pages, so do check it out and follow us for more such video tutorials.
1) Prep your eyelids with the Barva Skin Therapie SPF Cream Foundation in a shade that is suitable to your skin tone. Dab some loose powder on it and dust it off.
2) Use a lip brush to apply the lipstick on the eyelids and smudge it with your fingers whenever required.
3) Apply a medium/dark brown lipstick on the crease to create some definition. In case of fair skin Natural Brown (408) and in case of medium/dark skin, lipstick shade Earth Matte (412). Avoid the inner corners of your eyes. Clean your lip brush using a tissue.
4) Once you crease is well-defined, load your lip brush with a light pink lipstick, either Pink Pearl (702) or Cotton Candy (313), and apply it on the entire portion on your eyelid that extends from the crease to the upper lashline. Smooth it out with your finger to ensure that it is evenly spread out. In case you have made a mess on the outer corner of your eyes or spread some eyeshadow on the brow bone, don't worry about it at this stage. There is a neat way of tidying it up, which has been explained below.
5) Next, load your lip brush with a darker pink, either Seduce (329), Lilac (217), or Uptown Pink (325), and apply it in a thick line over your upper lash line. It should cover nearly half of your eyelid horizontally, so that it doesn't get covered up with your eye liner.
6) Clean the lip brush and use it to gently blend any lines of differentiation between the three lipstick shades. Avoid over-blending as it will result in wiping your lipstick out. Cream eyeshadows with lipsticks work differently as compared to powder eyeshadows.
Finishing:
To clean up the look, load a clean lip brush with some cream foundation, preferably the SPF Cream Foundation that you used to prep your eyelids. Apply it in a line extending from the inner corners of your eyes, go above the lipstick eyeshadow on the crease (not over it), to the outer corners of your eyes. Dab it gently with your finger to smudge it out. It will give a natural outline to your eyelid post eyeshadow application and clear up any mess that you have made. Also, apply some cream foundation just under your eyebrows to highlight them. To finish the look, line your upper and lower lashline (optional) with a black kajal or liquid eyeliner and wing it out from the corners of the eyes (see video on our Instagram/Facebook handles) and some mascara on your lashes. There! You have achieved a salon-style face makeup look using only lipsticks!
Hello friends! Do try out our tutorials and let us know how you find them. Also let us know any other comments/suggestions on our blog and social media posts. It means a lot to us to know what you think. Take care & stay beautiful :)
Collection 2019
Sale 70% Off
Third slide